Sylvia Duckworth's Wheel of Power/Privilege is an instrument that gives a comprehensive and intersectional view of how power and privilege come to exist in social structures and how we navigate these power structures in a relational manner. It has many versions being used by mental health professionals, social workers, educators and other individuals all over the world.
However, we identified the need for a comprehensive version, centered in the Indian sociocultural context and which captures the experiences of power and powerlessness of people living all over India.
To strengthen it, we have

collaborated with

mental health professionals, subject matter experts and people with lived experience, to review the positioning across the different social identities, and developed this tool.
Introducing
for the first time ever
The INDIAN Wheel of Power and Powerlessness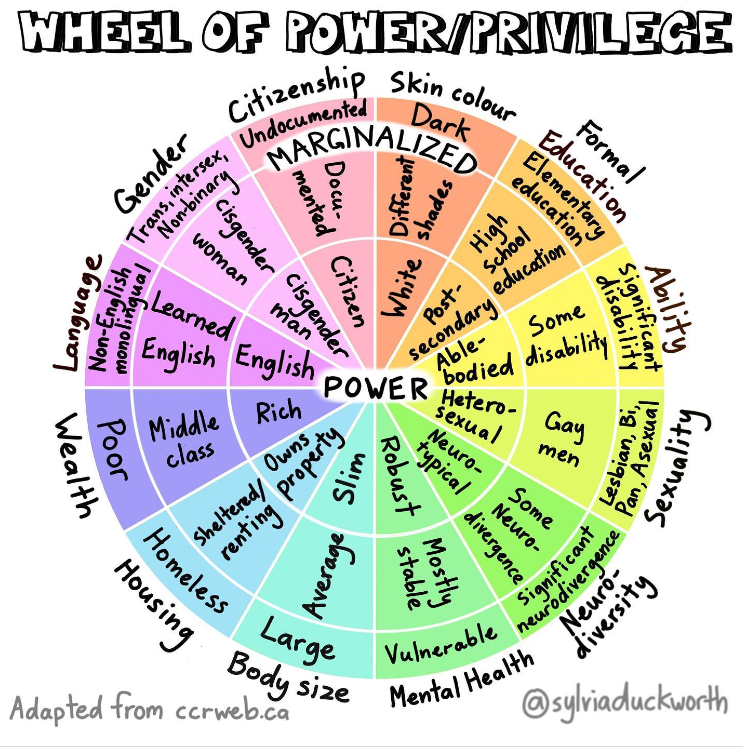 Move the slider on the image to the left to view the entire wheel. 
The centre of the wheel represents POWER and the closer you are to this centre, the more power you experience. As you move towards the margins of the circle, you move away from power/ privilege and towards marginalization.

There are different factors along each component of the wheel. We have attempted to plot all identities that fall under the respective factor, under the belt it may fit best.

Your individual experience of powerlessness is intersectional, i.e., you can be positioned in different belts along different factors; you can experience more power in one area and less power in another.

Please note that there is subjectivity in experience and this wheel cannot encapsulate the entirety of human experiences.

Context may impact any individual's positioning (e.g., what part of the country they are in). Also, relevance to the current ecosystem is considered in conceptualizing this wheel, this is not to invalidate any person's experience of discrimination.
Developing Team
Disha Paul
Ayush Biswas
Trupti M.
Ganga Nair
Contributions by:
Suvrita
Anis Syed
Karolin Susan
Michelle Sonali
Mariya Samreen
Design By: Phosphenes Design & Film | https://www.pfdllp.com/
Expert Reviewers
Karthikeyan, Founder- Srishti Village
Smruti Ranjan Jena – Development Professional & Researcher
Shruti Sharada, Queer Feminist Communication Specialist
Mansi Gupta, Gender & Business Expert
Pooja Priyamvada, Academic Director- International Institute of Mass Media 
Rajeev,  Anti-Caste movement Social Worker and Advocate
Debojit, Journalist, Writer, Editor
Antic Santosh, Counsellor & ex-priest working with marginalised communities across India
Divya, Founder – Blue Dawn
Abdul Matin, Asst. Professor, Political Science
Lakshmi C, MBA Candidate & Scholar, University of Oxford
Ankush B, Journalist, Editor
Elisha, Journalist
Deep Dive
Since publishing the Indian wheel of power & powerlessness, we have launched an in-depth exploration of each factor within the wheel. In the months of September – November 2022, we have been looking at the interactions between 'sexual orientation, 'gender identity' and 'relationship status vis-a-vis power and marginalization.
Watch this space for more resources and insights as we journey through this campaign.